Warning
: imagejpeg() [
function.imagejpeg
]: Unable to open '/home5/housesen/public_html/sense/wp-content/uploads/cache/2013/12/madonna_turn_up_the_radio_video_italy/3355617437.jpg' for writing: No such file or directory in
/home5/housesen/public_html/sense/wp-includes/class-wp-image-editor.php
on line
337
Madonna – Turn Up The Radio (video premiere)
Warning
: imagejpeg() [
function.imagejpeg
]: Unable to open '/home5/housesen/public_html/sense/wp-content/uploads/cache/2013/12/madonna_turn_up_the_radio_video_italy/1129581240.jpg' for writing: No such file or directory in
/home5/housesen/public_html/sense/wp-includes/class-wp-image-editor.php
on line
337

Warning: imagejpeg() [
function.imagejpeg
]: Unable to open '/home5/housesen/public_html/sense/wp-content/uploads/cache/2013/12/madonna_turn_up_the_radio_video_italy/3221783298.jpg' for writing: No such file or directory in
/home5/housesen/public_html/sense/wp-includes/class-wp-image-editor.php
on line
337
E' arrivato il video che accompagna "Turn Up The Radio", terzo singolo estratto da "MDNA", ultimo album di Madonna . Si tratta di una uptempo semplice ed orecchiabile dal vibe estivo prodotta dalla stessa Material Girl in collaborazione con Martin Solveig. La location scelta per le riprese della clip è Firenze, dove troviamo Madonna a bordo di una decappottabile mentre gira per le strade del capoluogo toscano.
Il video diretto da Tom Munro ha un concept piuttosto banale, compensato dalla buona fotografia. Divertente inoltre il finale con quel "La festa è finita adesso, allacciati la cintura, stronzetta", dedicato al pubblico italiano. Ci sono tutti i presupporti per un'altra hit nel nostro paese.
Le radio la stanno già passando, il video omaggia una delle città più famose del nostro paese e la canzone in se ha un ritornello accattivante che rimane subito in testa. Restano i forti dubbi in merito alle possibilità di avere successo a livello mondiale ma con un tour da milioni di dollari come l'MDNA questo è un fattore secondario. Ecco il video di "Turn Up The Radio", che ne dite ?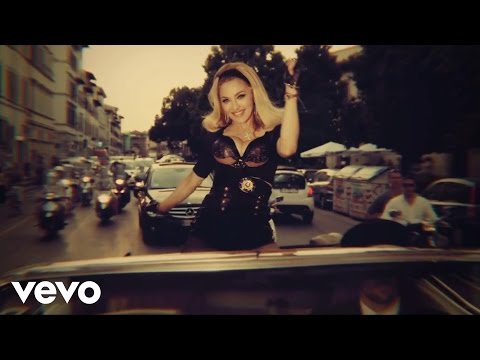 rnbjunk.com